For the first time in my life we don't have a real leader either in the Lodge or in 'waiting'. The Prime Minister and the Leader of the Opposition are a miserable pair, neither is fit for office. Hanging on to power and the thirst for power at any price, is devaluing what is the real Australia. We are losing our national character by allowing minorities, both within parliament and outside, to determine national policy. Our attitude to the generation of electricity, the life blood of society, is just one example. We have the best coal in the world and there are those who want us to stop using it ourselves and stop exporting it – in other words close the mines. We are close to having the biggest reserves of natural gas in the world and being the world's biggest exporter of gas; demand is starting to exceed supply because the 'miners' have sold it all for a fraction of its worth, and because we have sold our birthright it is being
forecast that gas prices will rise
and there may not be sufficient for Australia this coming winter— is that possible?  And slowly and inexorably as we approach winter, we all wonder how big our power bills will be. No doubt there will again be a call for blankets for the aged and the poor, when, as you will see, it is all so unnecessary. (The link 'forecast that gas prices will rise' may not work. Put 'winter gas shortage fears as prices soar' into your search engine, the story is there, or put in 'gas shortage in Australia 2017' and the page will fill. RC)
While the lights dim and then go out around the country our leaders argue about what is unimportant to the average voter. There is an article in today's 'Inquirer' in The Australian' which lays bare the hypocrisy and the self serving nature of Australian party political philosophy today. The Chinese will continue to rely on coal for 55% of their needs and they will do it with what they call 'clean coal'. This is not theory, it is practice and it is being adopted around the world but not in Australia.
How about this as the lights go out around the country? Professor Feng is the manager of a large Shanghai Power plant and inventor :
Feng recently took The Australian on a tour of his virtually spotless Waigaoqiao Number 3 power station, which produces 138 per cent as much electricity as the ­Yallourn coal-fired plant in ­Vic­toria's Latrobe Valley.
It operates with a workforce 53 per cent the size of the Australian generator, emits just 13 per cent as much carbon dioxide equivalent, and its efficiency — measuring how much of the energy in the coal ends up as electricity — is 166 per cent that of Yallourn. It took three years to build, and opened in July 2008.
As we turn off our coal fired power stations and continue to export the cleanest coal in the world, political ideology forces both governments and oppositions to ignore reality. The world of Don Quixote and his obsession with tilting at windmills is alive and well in Australia.
There is nobody in agriculture in Australia, inside or outside of our many parliaments, who is an obvious choice to lead this great industry of agriculture into what are going to be difficult years — years far more difficult than any I have experienced in my lifetime. Where have all the leaders gone? We need agents of change. We need men and women of the calibre of those who have gone before them, who can drive and cause the changes, which we desperately need. We must change or perish.
Politics both federally and within the states has degenerated to the point where the aspirants are doing anything from the gutter up, to gain office — mostly from the gutter — there are no limits it seems. They are matched, gutter for gutter, by those fighting to remain in office. It is self evident as far as they are both concerned, the good of the country can go to buggery — it is all about power.
You will find better behaviour and more intelligence and informed debate in the shearing shed than you will find in our parliament. Maybe there always has been? The other day the television was on as I made a cup of tea. The broadcast was from the senate. It looked like the speaker was on his own in the chamber— he was not, a few minutes of watching and I caught a glimpse of at least another two senators, both looked like they were occupied by their phone or tablet. They were certainly not listening to the speaker. This is not the Australia of my Australia of fifty years ago.
Speaking the other day to someone from a senator's office. Apparently having to speak to an empty chamber is quite normal. What is going on? Is this Australian democracy in action? The Senate must cost tens of thousands of dollars a day to run. If there is nobody there to listen then there is no debate. If there is no debate then the Senate is not the 'people's house of review'. It is a waste of time and money. Maybe Keating was right? It's all here 'unrepresentative swill'. Great from a man who made a heap of money after investing in a pig farm.
I don't care what your political persuasion is, you cannot argue against the obvious, that Australia is being controlled by a disparate mob of unremarkable senators. Many of whom would be stretched intellectually if they had to run a sausage sizzle outside Bunnings. Virtually nobody voted for them and now we all sit back and metaphorically watch the cricket or the footy and do absolutely nothing, sweet fanny adams, as the mediocre, the unexceptional power hungry control freaks in the Senate raid Treasury and do with this country whatever they like. They are convinced, it would seem, that their cargo-cult philosophy of an inexhaustible supply of money is a valid fiscal policy — and we the people, do nothing, except borrow more money to prove them right.
'Horse Trading' on legislation has now become part of the political vernacular. Members of the Senate openly claim they are horse-trading, for goodness sake, with the government, regarding what legislation they will support or oppose. Running Australia is now in the hands of a bunch of horse-traders. If Gilbert and Sullivan were alive today they would have a hit on their hands converting the political scene in Australia today to a farcical and amusing comic opera.
Gilbert and Sullivan in modern politics, see what can be done: can someone do this for Australian politics?
We are the sixth biggest economy in the world, we are hopelessly in debt both as a nation and as an agricultural industry. The incomes of both the country and of the industry are insufficient to repay the debts and the unexceptionals in the senate who now run the country don't seem to care, probably because they don't understand.
The politics of envy.
What I find most worrying is the ever-increasing use of the politics of envy in Australia. There are those who are now hell bent on dividing the country between what they claim are the 'haves' and the 'have nots'. When someone wins a fortune on Lotto nothing is said, society does not comment and it certainly does not deride that person because of his or her wealth. Compare that to someone who works hard and diligently and accumulates wealth far and above that of his old school friends and work mates, why is it that that person often becomes the target of ridicule, derision and envy?
Mr Shorten, the 'would be' Prime Minister and his front bench of paltry acolytes pour scorn on Mr Turnbull's wealth, Mr Shorten leads the yelping of the envious. The moral fibre of Mr Shorten is questionable; he displays all the characteristics of having a convenient memory. Kevin Rudd didn't incur the sarcasm and fabricated outrage of Shorten or the Labor Party when his wife's wealth at around $60million became common knowledge. Bob Hawke is now a very rich man; so apparently is Paul Keating, both started from humble beginnings, does Shorten mock them because of their wealth? No. He dare not and that makes him a coward. Many an American President was ridiculously rich before they were elected. I have yet to hear Mr Shorten pour scorn on the wealth of the President of the United States, Donald Trump. Why is that? Is he concerned he may be reminded if he ever becomes the Prime Minister of this country?
Labor politics in Australia are following the well-worn track of socialist governments before them, both in this country and in other countries, particularly in the UK.  People danced in the streets when that arch Conservative Baroness Margaret Thatcher died. I came across this the other day and it reminded me that we are on a similar course in this country except we haven't yet, not yet, got ourselves into the fiscal quagmire that Britain was in in the seventies — but we are not far off. That new Union Secretary, Sally McManus, says she will encourage others to break the law,  goodness knows what will happen if she does. We know the good of the economy and the country is foremost in the minds of the unions when they open the annual negotiations on the basic wage with a claim for an increase of $45 a week, when they know full well country is broke. Does the following sound familiar?:
Every separate group in the country had no feeling and no sense of being part of a community but was simply out to get for itself what it could." As you might expect, such was the assessment of a former Labour politician. But this was not the late Peter Shore reflecting on the Britain that Margaret Thatcher created. He was talking about the Britain she inherited. 
On January 15 1979, Shore joined the prime minister, James Callaghan, and the rest of the Labour cabinet to discuss whether the national situation had deteriorated so seriously that troops should be brought onto the streets and a State of Emergency declared.
Agriculture — a case of mistaken identity.
It's a well worn talking point in farming circles that so many are asset rich and cash poor. The daily press and the agricultural press do little to inform the general public of the reality of farming today. The reality is that many are asset rich and cash poor. The media on being told that there has been a record harvest, quickly insinuates, and their readers assume and in the minds of some confirm that this means farmers are wealthy 'cockies' and should be ignored when they draw attention to the fact that their costs exceed their returns and they are no longer internationally competitive. 'How can they be in trouble?' the urban voter asks, 'They have just had a record year.'
That image sticks so when I write and say that wheat prices are below the cost of production, not many in the media and even fewer in the general public take any notice, let alone believe me.
The problem for agriculture is that it is not listed on the Australian Stock Exchange (ASX). It is comprised of thousands of individual businesses that are not required by law to publish their annual balance sheet. This in turn means that the financial health of the industry, agriculture, is not examined, scrutinised and commented on by the financial world in the same way as a publicly listed companies.There are a few large agricultural companies who are listed on the ASX and the shenanigans with their shares and foreign ownership percentages together with the growing interest of a couple of West Australian billionaires in cattle stations, some with which they have ancestral ties, should not be taken as representative of the cattle industry nor of agriculture in general.
'The City' takes little interest in agriculture and for very good reason. They know that should they invest in grain growing and in beef farming for that matter, the return on investment (ROI) is not high enough for them or for their investors.The facts as reported by ABARE the ROI for beef farms in Australia in 2016 was just under 2%, and it is estimated that it won't be until 2020 that the Australian herd gets back to anywhere near pre-drought levels. Production is down in 2017 because we are restocking after a massive cull during that drought. The ROI on the best of Grain Farms is struggling to make 5% probably less now the floor has fallen out of the wheat price.
The Prime Minister of Australia has been busy spruiking recently about how many tens of thousands of tonnes of beef we are going to export to China, what he hasn't told us is where the cattle are going to come from. This chart is from Beef Central and I think it originates from the MLA.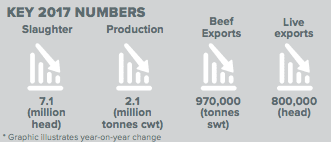 It doesn't do the beef industry any good to have the Prime Minister of Australia trying to impress Premier Li of China with what in reality, is a bullshit story. We don't have the cattle to send thousands of tonnes of beef to China and it is going to be awhile before we do. Whoever writes the Prime Minister's speeches, should at the very least find a source of information that knows what it is talking about. It is to be hoped that the Deputy Prime Minister and Minister for Agriculture, Barnaby Joyce, didn't see the speech before it was given. If he did and agreed with the content, then he too was part of the subterfuge or bullshit story designed to impress Premier Li and shore up the glory and wealth that is promised to all of us through the Free Trade Agreement (FTA) with China.
The other thing that speeches of this kind achieve is that it gives license, permission by example, for others to do the same and none of them help agriculture communicate the truth about the viability of the industry. It is almost as if our leaders will never admit to the rest of the world that the 'Mother Industry' of Australia needs a sympathetic hearing. The more the people of Australia are told by our Prime Minister and others that Free Trade Agreements are the answer to all our problems, the more difficult it becomes for Agriculture to tell an honest story.
Agriculture is a big industry, as the following article relates exports in this current period could reach $48.7 billion and a total farm production of $63.8 billion — wow!  This is part of an article that appeared recently in The Land:
Australian farm export earnings are likely to hit a record $48.7 billion next financial year –  about $1b more than the current 2016-17 period –  if seasonal conditions remain relatively supportive.
The big winners in the year ahead should be producers of wool, dairy products, sugar, wine, sheepmeat, barley, canola and rock lobster –  all are expected to see rise in export prices for their products.
This year Australian farmers are on track to produce a record $63.8b in crops and livestock after a bumper harvest and a run of red hot livestock prices.
That's an 8.3 per cent rise on 2015-16's production value figures according to the national commodity forecaster the Australian Bureau of Agriculture and Resource Economics and Sciences (ABARES).
Despite a slower year for livestock numbers turned off, our surging farm output is set to push total 2016-17 agricultural export values up about 6.7pc on last financial year's results.
A couple of months ago I used information provided by Prof Ross Kingwell and his colleagues from the Australian Export Grains Innovation Centre (AEGIC) to show that Australian wheat growers are hopelessly uncompetitive in the international grain trade at present. Last month a man far more qualified than I, supported what I wrote:
Chicago-based AgResource Company president Dan Basse said a number of headwinds meant global wheat prices could decline to a seasonal low this year of about $US165-$US172 tonne — presenting about $US30 downside risk.
Record stocks of 546 million tonnes of major grains (wheat/corn/soybeans) meant the world was "awash with grain". Global plantings were at a record high. The global area harvested last year was 523 million hectares.
Mr Basse, visiting Perth last week as part of Rabobank's visiting experts program, said a massive expansion in plantings in Ukraine, Russia, Brazil and Argentina, was contributing to the oversupply.Russia, once the biggest importer of wheat was establishing itself as the world's biggest exporter and had another 12 million hectares that could be cultivated.
Russian farmers were also adopting technology and getting big increases in yield, he said.
We published the figures:
What table 13 shows is that although we have had one heck of a year in wheat production in Australia last season, the industry in Ukraine is far more efficient at getting grain from farm to port and from port to destination and Mr Basse agreed that there are strong headwinds ahead for the Australian grains industry. In fact we asked the question if the wheat industry in Australia is finished?
In a subsequent article we looked at declining yields and the challenges presented by changing rainfall patterns and declining yields. Yields which are predicted to render the wheat industry in Australia terminal.
Agents for Change.
Agents for change. Where are they in Australia today? The problems of agriculture will not solve themselves. If we leave it to the politicians, nothing will get done.
What we need to do to make wheat growing competitive is all in Table 13. It's not rocket science. We need to remember that the countries who buy wheat, must buy, have to buy, from those who offer the cheapest product. As the population of the world continues to increase the game will be for the developing world where the population is growing the fastest, to make their hard won foreign exchange go as far as possible. That could well exclude Australia.
Australia in the past has produced, annually, between 12% and 15% of the wheat traded in the world. Perhaps nobody did the sums in my previous articles. The Baltic states have the capacity and the production costs to replace Australia in the world wheat market. If wheat yields continue to decline  in Australia — we all know what the result will be.
The question remains, we have identified the problems. Nobody has argued that they are not real. So what are we going to do?
NOTE
Want to comment? The links still do not work. To comment email me at  roger.rankin.crook#bigpond.com    put the @ in the appropriate place. RC